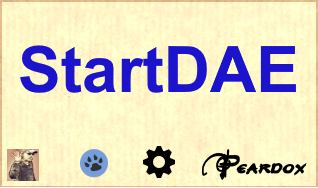 Introducing StartDAE-GPU – it makes Deep Art Effects GPU a lot faster
As soon as StartDAE was released we were asked if it works with the GPU version.
Works – it's such a loaded word. Yes it works, thing is it doesn't use the GPU.
StartDAE-GPU (Windows Only ATM) expands on the work we did on StartDAE and adds in full CUDA support for all but the very newest NVIDIA cards (see below for full list)
The unsupported cards are the likes of the RTX 2080 as they require CUDA 10 – if you've got one of these register and leave a comment and we'll try doing a version for you
Not optimised for NVIDIA TITAN RTX, GeForce RTX 2080 Ti, RTX 2080, RTX 2070, RTX 2060, GTX 1660 Ti, GTX 1660, GTX 1650, Quadro RTX 8000, Quadro RTX 6000, Quadro RTX 5000, Quadro RTX 4000, Quadro T2000, Quadro T1000
StartDAE is released as DonationWare. You don't have to pay for it (technically StartDAE is not free, some people just decide to pay zero). The effect of not making a donation is merely to make us loose interest – if nobody donates then obviously nobody wants us to create updates and upgrades.
Downloads