Version

0.1

Download

16

File Size

41.51 MB

File Count

1

Create Date

10th August 2019

Last Updated

19th August 2019
StartDAE Mac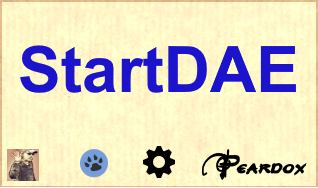 StartDAE boosts the speed of Deep Art Effects making it two to four times as fast as the normal version supplied by Deep Art Effects GMBh.
This is achieved by transparently overriding a core system Deep Art Effects uses for applying a new style to an image.
Note that at the moment this project is an Alpha release so it shows an icon in the launch bar that is useless (we're trying to remove it)
A Note about Using StartDAE
StartDAE will cause an icon to be added to the launch bar which hangs around for a bit. Until we can get rid of it can you ignore the thing / remove it from the dock.  The icon is a place-holder for Deep Art Effect - if you click on it then all that happens is normal Deep Art Effects runs (slower mode)
System Requirements
StartDAE has a very specific set of Macs it'll work on. If you can run Mojave you've probably got a compatible Mac. The specific list of Macs Start DAE should work on is as follows:
MacBook Pro Late 2013
MacBook Air Mid 2013
MacBook Early 2015
Mac Mini Late 2014
iMac Late 2013
iMac Pro Late 2017
Mac Pro Late 2019
This list excludes a few older Macs that, while they can run Mojave and Catalina, can't run StartDAE.
My Mac isn't in the supported list
If you've got such a Mac then you're stuck with normal Deep Art Effects at the moment but if you send an email to feedback@peardox.com and state the exact spec of your Mac - Mac symbol in top left of screen -> About This Mac - we'll see if we can make things better for you as well (it won't be as good as this version but should help)
Speed comparisons
We tested three versions of the same image at 4k, 1080p and 720p resolutions using chunk sized of 2048, 1024 and 512 using both normal Deep Art Effects and StartDAE. Each image size / chunks was timed very accurately using both methods of starting Deep Art Effects. Each variant was timed for ten renders to get an average speed.